The Mutant Zombie is a giant, hulk-like version of the zombie, and will be found in the night time as a rare spawn. 25% of the time, it'll be a mutant zombie villager. It attack villagers, iron golems and players without provocation.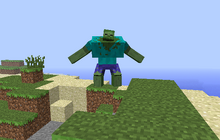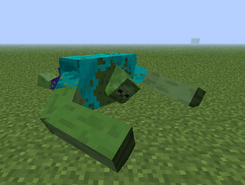 Once brought down to 0 health, the Mutant Zombie will "die" and fall to the ground. However, unless you light it on fire, it'll get back up again with 40 health and continue to fight you. To permanently kill it, you must either kill it 4 times or light it on fire once it's down. On disappearance, the Mutant Zombie will drop the Hulk Hammer and 30 experience points.
Ad blocker interference detected!
Wikia is a free-to-use site that makes money from advertising. We have a modified experience for viewers using ad blockers

Wikia is not accessible if you've made further modifications. Remove the custom ad blocker rule(s) and the page will load as expected.